What Is "Queening"? The Empowering Sex Position You Need To Know
Jake Felix
Are you looking for ways to spice and ignite things up with your lady?
Then Queening (also referred to as face-sitting) is exactly what you are looking for.
Queening or facesitting is one of the sex positions you should know about if you are into bondage, submissive and dominant stuff.
It can be classified as the most empowering way to try oral sex. Queening is the ultimate way to treat your lady like a queen.
As the name suggests, the lady is the queen or dominant in this position. It is when a lady sits on her partner's face, while he or she pleasures her.
Queening is more like a lady sitting on her throne, which is a man's face here.
Therefore, I can't think of a much better name than Queening for this position.
In the blog, we will give you all the details you need to know about Queening.
We will tell you what Queening can do to ignite your sex life to another level.
If you do not know about Queening, this is the ideal place for you. In the event you haven't heard of the term, I must say you are missing out on a lot of fun stuff.
Let us first start with what exactly Queening or "face-sitting" is.
What Is Queening?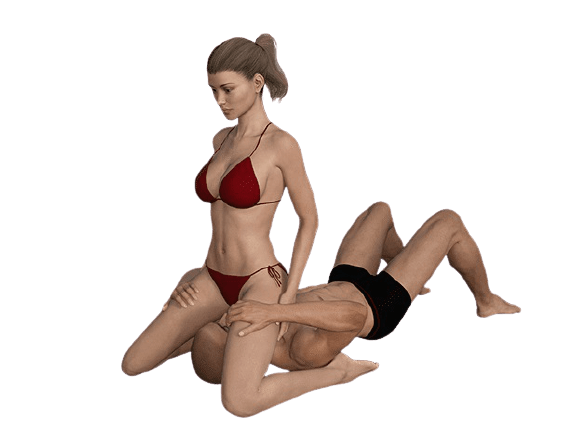 Queening actually has a very rich origin. It has been termed as one of the most royal sex positions in the urban dictionary.
It is termed as an ancestral way where a woman rubs her genitals or anus on a man's face.
This way he could lick her genitals, with his tongue, lips, and nose. Queening is considered one of the most erotic ways of women's domination.
Queening is considered to be practiced by ancient Egyptian, Japanese and European culture.
Facesitting was considered a mechanism where a noblewoman can satisfy herself. This was done, by royal women dominating their slaves.
By this mechanism, she will pleasure herself without being pregnant.
There are researches that claim that men slaves were paid for such services. These men were in fact trained with the practice of Queening.
Nevertheless, today women of all backgrounds and cultures enjoy this sex position.
Irrespective of their class, one can expect her man to go down on her in this way.
In fact, we consider it to be one of the best ways to make your lady feel like she is the All and One.
Surveys say that women feel like there is nothing more empowering than a man's face on her butts like a throne to sit on.
This was all about this particular sex position. You might not know about this position.
You might not have even heard of this practice.
Do you want to know how this works?
Do you want to make your partner feel like a queen in bed?
Then keep reading this blog.
We will now talk about how does Queening works.
How To Do Queening?
As said until now, that Queening is basically when one sits over her partner, for pleasure.
The genuine meaning of face-sitting is actually sounded like. It is when an individual hangs their privates over their partner's mouth for oral sex.
Nevertheless, there's a whole other world to the artistic work of Queening than just uh, sitting all over.
First off, you ordinarily do not completely sit your entire body weight down, so it's actually a sex act and a serious thigh exercise in one.
In case you are dominant, you can stoop over your "subject," who will rest on their back.
Ride their face with your legs and utilize your thigh muscles to float your privates directly over their mouth.
You would prefer not to put your full weight all over or you could limit their breathing, which is perilous.
To the extent which course to confront, it's altogether dependent upon you; it doesn't have a lick of effect.
When you are in a position, your beloved ought to do whatever they regularly do when giving cunnilingus.
This incorporates yet is not restricted to, sucking, kissing, and flicking your clit with their tongue.
Go ahead and exploit this by enabling your authority as the Queen to mention to your partner what you need.
All things considered, you are the Queen, remember?
Sometimes, people like to mix it up with BDSM breath play called smothering.
This is when the dominant intentionally restrict their sub missive's breathing.
This might seem weird, but some people are seriously into this (you might be "some people" and it is completely okay).
While you practice this, be cautious and do not murder your partner.
Solidly, sitting on somebody without suffocating or harming them requires a specific mastery.
Besides, it requires great thigh muscle strength as well. It's more about crouching while at the same time controlling your equilibrium.
To defeat this inconvenience, suggestive furniture is designed for Queening. It consists of a seat with an opening permitting the dominant to get these oral joys. However, this furniture is seriously expensive.
Now after knowing all these, you might be wondering whether it is even worth it or not.
Hence, the next section of the blog will dedicate itself to the Pros and Cons of Facesitting or Queening.
Advantages of Queening Sex Position
There are many reasons one could think of Queening the right choice.
Firstly, it is one of the best oral sex positions to satisfy a woman. It feels outstanding for the ladies, physically as well as mentally. It is quite a known fact how the clitoris is the center of female orgasms. Hence it makes it quite obvious why most women out there like Queening.
Secondly, the feeling of dominance. In a male-dominated society, women actually feel weirdly empowering to dominate over a man in the bedroom. Hence, if you want your partner (the lady) to feel more worshipped you might not have a problem with being submissive in this case. Women find it a major turn-on being worshipped and in authority in the bedroom, by their partner.
From a sub missive's perspective, some people really like to be submissive. Then this would be a perfect position. On the off chance that you are inclined towards being a submissive, this position is ideal. This is in light of the fact that your partner truly overwhelms you as they ride your face. In addition, in case you like asses, you get a face brimming with booty. To wrap things up, in case you are into breath play, your partner can suffocate you a bit.
These were a few Pros of this sex position. However, like every other position, it is not devoid of some disadvantages.
Let us now get on with the Cons of Queen or facesitting.
Disadvantages of Queening Sex Positions
There are quite a few points why one might not find Queening fun.
Although some people really enjoy Queening yet it might gross some people out. Some people do not really enjoy the fact of licking a genital. They might find it abominable to pleasure a genital with the mouth. If you are one of them, then you should not worry, it is completely normal. Everyone is entitled to their perspective. If you are not into it all you have to say is "no".
The queen might not have enough thigh strength to do Queening. It can be seriously difficult to hold onto a squat position for a very long time.
Some men are not into being submissive. Your partner (the giver) might like to be dominant in the bedroom, then submissive. If this is the case, Queening might be a deal-breaker.
One can try different variations in order to overcome such difficulties.
The queen can try holding on to something to provide support for her squat position. One can try a knee variation.
In this position, a queen sits on the face of her partner on her knees.
In this case, her face is towards her partner's body, thereby providing her even more support.
We will recommend some best ways to perform Queening, to avoid the cons of the process.
Most Pleasurable Face-sitting Positions
We have discussed a few face-sitting positions which one can practice.
This way one can avoid the cons of mobility issues involved in Queening.
The floor
Here, a man can lie on the floor with his back on the floor. The queen could hold on to something with her hand for support.
She can then sit on his face on her knees. This way she could avoid the squat workout as well as have ethereal pleasure.
For instance, the receiver could hold on to a couch by placing her hands and elbow on it.
This way might help her maintain an equilibrium level of pressure on her partner.
The bed
The bed is likewise an extraordinary spot for face-sitting. The man lies on his back while the lady sits all over.
With her knees and shank leveled against the bedding, she has more command over how much weight she lays all over.
In this position, she inclines a portion of her body weight onto her hands so as not to make uneasiness the man beneath her.
The chair
One more position one might do for face-sitting is the point at which a man is situated on the floor, his back against a padded chair.
He toward the seat until the scruff of his neck leans against the edge of the seat.
In this position, he inclines his head back with the goal that it falls against the easy chair pad.
The lady then, at that point brings down her base onto his face from a higher place.
To assist with the pressing factor off her thighs, she could clutch the armrests of the seat.
Inverse Face to Butt
This mechanism does not even include a lady sitting on a man's face.
All things being equal, she lies on her stomach on a surface, like a bed or a mattress or floor.
The man then, at that point lies on his paunch behind her, squeezing his face into her bottom.
The lady might even reach back with her hand to the man's head, pushing his face further between her butt cheeks.
These were some positions one might want to practice for ease of the process.
However, some people might still not be comfortable doing this. Hence you can try other sex positions to spice up your life.
If the lady is not comfortable with Queening, there are other ways one could please her.
The next section of the article will provide you with such information.
Advanced Sex Positions That Women Like:
It is not easy for women to attain sexual satisfaction. For her, it takes time and consistency, unlike men.
Therefore, women find it arousing to practice different sex positions. It makes them feel wanted and desired.
Besides sex positions they always like to spice and heat things up.
For instance, foreplay, bedroom games, bedroom sexy toys are a few of them.
Let us get back on track and note down a few other sex positions that your lady might like.
This is when instead of the man the woman takes things in her hand. She is on top and the man lies flat on his back.
She feels in authority in this particular position. The man just has to let her do the work and enjoy whatever she is doing.
This way the woman gets to be dominant and the man too gets what he wants.
This can also help the woman control when she climaxes, which makes her feel in power.
As the name implies, it is when a woman is sitting on a counter and the couple makes love.
The spread eagle position is what she has to do. This position is the most preferable by women.
This is because it provides the most G-Spot sexual gratification.
On top of that, sex is something that is restricted to the bedroom. But the couple can ignite things up by doing it on the kitchen counter.
It is the most common coitus position. It is when the man is on the top and the girl lay flat on the bed.
Even though it might seem very normal, yet it is the most satisfying position for women.
Hence, you can switch things up now and then. Mixing different positions can help the couple with healthy sex life.
One can also constantly kiss her erogenous areas for better pleasure.
These areas may include lips, stomach, breasts, neck, etc.
It can aid men with premature ejaculation. It is when men lose their erections soon.
This position might restrict the mobility of both partners. But it can give them chance to look at each other and whisper each other sexy things (it can be romantic as well).
Women feel loved, protected, and safe in this position.
Hence, instead of just practicing one position one should try new things.
It will keep the spark of the relationship alive for a prolonged period.
With this, we come to the end of our blog.
In conclusion
In the event that Queening oral sex position comes from the BDSM genre, today it is by all accounts rehearsed by an ever-increasing number of individuals.
Facesitting is regularly utilized by couples as an extra for oral sex.
For a few, it can make what seems to be a change in power elements. For a few, it very well may be extremely energizing to take control and lead.
Face-sitting was one of the demonstrations restricted in pornography in the U.K. in 2014, provoking dissidents to sit on one another's countenances in public.
This amazing name practice is a decent way for ladies to end up in a predominant position, and to invert the jobs of pre-setup by society.
In hetero relations, the lady, in actuality, is entered, detached, ruled. Queening centers around female delight, and it feels better.