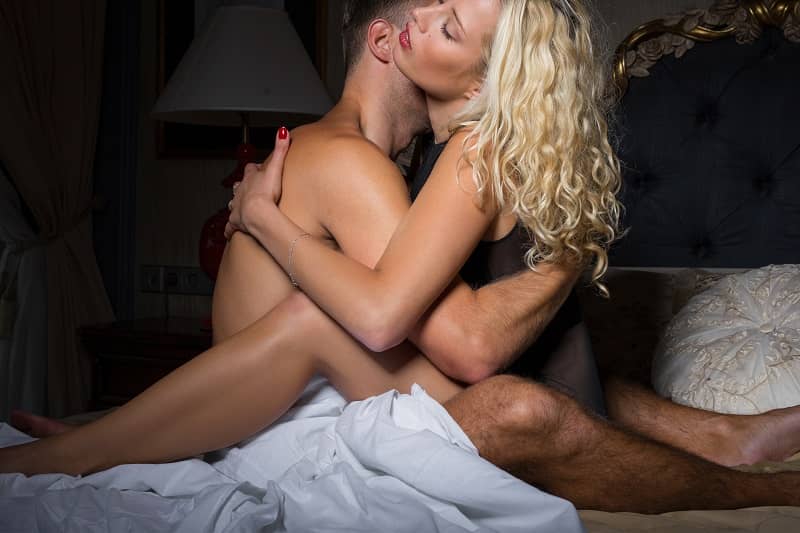 Are you feeling a loss of novelty in the bedroom?
There are things which are better on repeat such as friends, sunny beach days, but not sexual positions.
If you're having sex again and again in the same position you'll lose even the hottest spark. This will make you try some new sex positions as it could stoke the flames from time to time.
The time you acquire some new sex positions in the bedroom, you'll set yourself for a stimulating experience and a bigger finish. Your brain craves newness and increases your excitement and level of satisfaction.
New sex positions will encourage both the partner to be more vulnerable with each other in the bedroom. This will ultimately inject your relationship with an extra dose of trust.
So, switching between the positions is a must if you want to have pleasure in the bedroom. Soon it'll be your habit and you'll be able to reach climax each time.
The more sex positions you try the better possibilities out there o have better satisfaction.
But, where you can begin?
Don't worry! We're going to list the best sex positions that will leave you in awe position.
Best Sex Position for 2020
#1: Corkscrew
How to Do It: You should rest your hip and forearm and press together with your thighs at the edge of a bed or bench. Your partner will be entering and grinding from behind while standing and straddling.
Why: If you keep your leg pressed, your partner will have a tighter hold and their thrust will increase during this sex position.
Make It Scorching: You can match the tempo of your partner during this sex position while thrusting your hips slightly. This way you won't let your partner do all the work.
#2: Cowgirl
How to Do It: Lie on your back and let your partner mount on you. You can then straddle your hips and insert your penis in the vagina from an upright position. Your partner will ride your penis just like a cowgirl rides a bull.
Why: This position lets your partner have complete control of the penetration. This way you can grind deep while limiting your pleasure and focusing on her pleasure.
Make It Scorching: You have to become Lazy and let your partner do the work. Your partner will make most of it as it's her time.
#3: The Chairman
How to Do It: Make your partner sit on the edge of the bed and you need to sit on him. You'll be facing away from him.
Why: This position will let your partner have back support including pleasure and comfy. The position is pretty much comfortable to make the most out of it.
Make It Scorching: If you do it before a mirror it'll be more pleasurable. You'll be able to see yourself getting off.
#4: The Laptop
How to Do It: This position needs a bit of flexibility.  You need to sit on the edge of the bed and make your partner sit in your lap facing you. You should rest the back of your knees on your partner's shoulders; the calves and feet on or over the shoulder as well.
Why: face-to-face is the more intimate sex position to go slow and penetrate deep.
Make It Scorching: Maintain a better balance by grasping your partner's neck. Your partner needs to hold your lower back for better support. This is one of the best sex positions to help you last longer.
#5: Doggy Style                                                                                       
How to Do It: Let your partner kneel behind you when you're on all fours. In this sex position, the male partner needs to keep their upper body straight or slightly down towards you.
Why: This sex position lets you penetrate deep and easier stimulation to G-spot.
Make It Scorching: Ask your male partner to do fingering or you can simulate your clitoris with one hand. Doggy style is the best ever sex positions to play dirty.
#6: Upstanding Citizen
How to Do It: You're going to straddle and wrap your legs around the male partner's body. The male partners will stand and hold you in their arms while giving full support.
Why: You need to master this sex position and you can spin it outdoors. You may be able to do it while having some of your clothes on where you'll be trying to look discreet.
Make It Scorching: Having eye-to-eye contact and making each other feel good can let you have great intimacy. One more aspect is there to make it hot is chest-to-chest.
#7: Spooning
Both the partner need to lie on their sides. Male partner front should press the back of his partner like the spooning cuddle position.
The female partner is going to be the small spoon whereas you'd be the bigger one!
Your partner will separate her legs and you need to find her vagina and then enter her.
Why: Both of you need to lie down and get the right angle to achieve hip manipulation. Her hips should differ a bit to make it one of the easy and pleasurable sex positions.
Make It Scorching: In this position, the stroke will be shorter that makes it easy to reach her G-spot. Grind your hips against her butt while stimulating her clitoris with one hand.
#8: The Hound
How to Do It: Both the partner should be on their knee and the penetrating partner should be on the outside. You'll be entering her from behind and your partner will be resting on her arms. She can swivel her hips to make penetration more pleasurable.
Why: For slow, deep thrusting, and shallow thrust, the position is great.
Make It Scorching: Initially, you can start slowly and with the passage of time you can increase your speed. In this position breasts, nipples, the clitoris will be easily reachable to make skin-to-skin contact. This is one of the best sexual positions for better sex.
#9: Flatiron
How to Do It: Both partners need to lie on the bed facedown. The legs of both partners should be straight and hip upward.
Why: The sex position is spruce fit to feel your partner's penis deep inside.
Make It Scorching: During this position, deep breathing and shallow thrust will let the romp last longer.
#10: Butter Churner
How to Do It: Raise your leg and fold it when you lie down and keep your ankle on either side of your head. While lying down let your partner squats and penetrates deep.
Why: If you're into yoga you're gonna like this sex position. This sex position lets your partner penetrate more deeply.
Make It Scorching: Make this sex position a little comfier while putting a pillow beneath your shoulders.
#11: Magic Mountain
How to Do It: Both you and your partner will sit, legs bent, leaning back on the hand and forearms. Once you are comfortable you can inch toward them to make contact.
Why: This position will let you feel connected as you'd be looking at each other. Stimulation will increase as you grind your clitoris against his pelvis.
Make It Scorching: You can slide ice cubes from your partner's chest and collect that at the base of the pelvis.
#12: Side By Side
How to Do It: This sex position is pretty much similar to spooning, but the partner will be facing each other. While lying down female partner will free her leg and wrap it around your hip. Your hips will then be able to gain the access to her vagina.
Why: Both partners need to coordinate their thrust while working as a team. This won't let you tap out.
Make It Scorching: You need to control how deep you can thrust. This will be active, passive, and feel-good sex positions. He will have better control and can limit his thrust.
#13: Cowboy
How to Do It: Your partner will straddle you when you'll be lying down. He'll insert his penis in the tight opening created by semi-closed legs.
Why: The tightness of the vagina will increase the intensity of the penetration.
Make It Scorching: Let him fondle your breasts and if you'd like a bondage action, you can hold down your wrists gently. This is one of the sex positions for better stimulation and stronger orgasm.
#14: Spork
How to Do It: You're going to love this sex if you love spooning. You'll be lying down flat and your partner will make a position while resting his body on 90-degree in between your legs.
Why: The sex position is great as it's both sexy and relaxing.
Make It Scorching: Your partner will take the reins and he'll be pleased with an awesome view of your body. You'll be able to explore erogenous zones as your hands would be free.
#15: Couch Grind
How to Do It: You can ride her on the couch or the edge of a table or a desk with a thick towel folded over it. Initial movement in this sex position will be small, but later you can build the momentum.
Why: If you like steady and solid pressure on your clitoris, the sex position is great.
Make It Scorching: Are you feeling like American Pie? Let your guy enter from behind while gripping his arm with your thighs. Enjoy the moment but make sure you don't break the furniture.
The Bottom Line
These are the best sex positions that will help you last longer in bed. The sex positions we have mentioned above will bring back the smile on you and your partner's face.
The women partners are fond of switching positions while having sex. It makes them feel more adventurous and provides better stimulation during sex. It's pretty hard to find a sex position that will work for both of you but that will give real happiness.
However, you'll also need to keep your fitness level high and strength as well. Without fitness and strength, you won't be able to perform better in the bedroom. These sex positions will prolong your intercourse and have a better orgasm.