How To Have A Prostate Orgasm? A Guide To Unlock Better Orgasms
Jake Felix
Get ready to explode with a euphoric sexual experience, as we teach you the art of prostate orgasm.
Sexual stimulation has no boundaries when it comes to pleasure and excitement, especially for men!
When it comes to pleasure, men look out for all possible ways to expand and elevate their sexual bars.
And that is what led to our discovery of Prostate orgasm, or the dynamo of orgasm, that allows you to enjoy multiple explosions!
But, that's not an easy trick and comes only from a perfect tune played by your fingers, toys, and some other exciting additions.
In the following blog, we aptly bring you notes on how you can hit the right tune, the right spot, and the right explosion with prostate stimulation.
But before we do that, how about giving you a virtual experience on What Does a Prostate Orgasm Feel Like?
Prostate Orgasm for Men – The Euphoria of Sexual Pleasure
Prostate orgasms, unlike your penile explosion, open door to more intense sexual pleasure with the opportunity to explore and still stay alive.
However, in the books of sexy orgasms, Prostate orgasms remain less explored sections because of less limelight on the topic.
To understand prostate orgasm, what's important is to know what exactly is the prostate gland and how it works.
The Prostate Gland
The prostate gland is famous as the P spot among men who have already tasted the pleasure of prostate orgasm.
It has several nerve endings which makes it a sensitive point for sexual stimulation.
Though the gland is located between the anus and the testicles and plays an immensely important role in producing the fluid of semen. This fluid helps the sperm travel across the testicles to the penis for the final release.
Though earlier people looked at the prostate as an organ that causes discomfort and pain among men as it enlarges with age, it is now in the buzz for being a strong source of pleasure.
The primary reason behind its sexual sensitivity is the nerves surrounding it connected to several sexual organs.
Since the prostate is rarely stimulated, its response to sexual stimulation is intense and more prominent than traditional penile stimulation.
So now since you are well versed with how the prostate is involved with sexual stimulation, it's time we talk about the real thing.
Yes the orgasm, what it is, and how it feels.
What Is A Prostate Orgasm?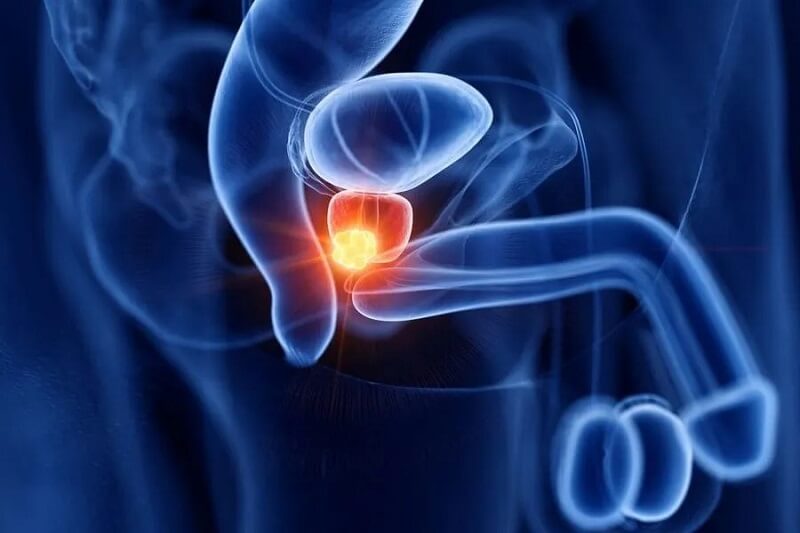 A prostate orgasm is similar to the traditional penile orgasm but differs in the feel and amount of secretion.
It is usually characterized by muscle contractions, the release of prostatic fluid, and eventually a full-body relaxation and pleasure.
What makes it more ecstatic is the quick recovery that opens the door for multiple orgasms.
You can have both prostate orgasm and penile orgasm simultaneously which is gonna leave you grasping.
Studies show that 33% of men have stronger and longer orgasms when combining prostate stimulation.
The Virtual Feel
People after experiencing prostate orgasm, commonly describe it as an electric wave for the entire body.
It starts with strong contractions of the genital region slowly radiating throughout the body giving you deep waves of pleasure.
According to these experiences, this feeling was a whole new experience, as it was different from just the localized pleasure in penile stimulation.
Some people also felt their bodies shudder as they were able to experience fast and continuous streams of orgasms with prostate stimulation.
But it's not obvious for you to release any fluid in this orgasm; some might release prostatic fluid which is milky in appearance while others might not have any fluid release.
Though prostate orgasms sound exciting but are not easy to achieve!
Some people might find their prostate releasing ecstasy for the first time itself, but some might take time or a lot of practice.
There are special techniques and tricks of getting the orgasm right, hence you need to have a good grip on How To Prostate Orgasm.
How To Get A Prostate Orgasm?
The first step of climbing the ladder to prostate pleasure is locating the gland!
It's not as easy as just thrusting the fingers right in, rather needs special angles and tricks.
Before you get ready to locate your prostate, we suggest you excite yourself first with either foreplay with your partner or sexual fantasies.
This increases the blood flow to the prostate and swells it up, making it easier to locate the gland.
Finding the Prostate
There are two ways of locating the prostate – internal and external.
External Locating Technique – try pressing around the area between anus and testicles to locate a small walnut-sized soft lump.
This lump however might not be felt externally and even if you find it, there is no guarantee of prostate orgasm with external stimulation.
Locating the prostate internally
There are a few preps to be done before you go in searching for the prostate internally:
Empty your bowel and clean up the area
Cleanse your hands and trim your nails to avoid injury
Next, we start with our search, the following instructions are for men who wanna go for self-pleasure, but can be followed by partners too:
Sexual excitation before going in is recommended to make it easier to locate the prostate. You can try watching exciting videos or imagining yourself in your fantasies.
Take some lube on one of your fingers and insert it just an inch. Thrust in and out as you do while fingering a vagina. Take out the finger and take some more lube.
Now we are going two inches deep into the anus, we recommend using the index finger for depth penetration. These steps just help relax the tissues around the anus.
Repeat the above steps going three to four inches in.
Since the prostate is located three to four inches from the opening of the anus, you will easily find it, in case the fingers don't help you can go for the toys too.
Now as you have found the prostate and are all set for experiencing the next level of sexual pleasure we start with some basics on How to Have a Prostate Orgasm for Men.
How To Have A Prostate Orgasm?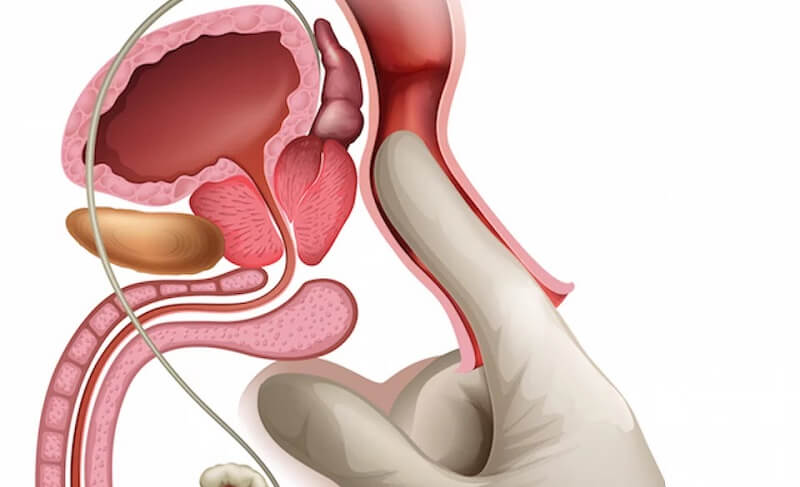 Before asking your partner to give you a prostate stimulation it is best to explore yourself a little.
Self-exploration makes you clear on what excites you the most and also makes you more comfortable with prostate stimulation.
Next, we are going to try both external and internal stimulation to help you out in realizing your best release moments.
External Stimulation
External stimulation is also called milking or massaging your prostate until fluid comes out.
This fluid appears milky white with a thick consistency.
If your massaging of the prostate shows a milky secretion go on with your technique as your climax is close.
One such way of massaging the prostate is using two to three fingers to apply gentle pressure on the prostate externally.
You are free to adjust with the speed and direction of motion as it's a matter of your pleasure and comfort.
Try stroking, applying pressure, or even tapping it to try different motions.
You might even notice a watery secretion from your penis during the process which just shows you are doing it right.
Next, we talk about internal stimulation.
Internal Stimulation
For internal stimulation, it's important to be clean down the area, and have well-cleansed hands with lots of lube by your side.
Once you are ready, it's time to insert the fingers and go down the pleasure town.
A popular technique among prostate orgasm fans is the come hither technique.
Come Hither – insert your fingers with lots of lube applied and curl them upward in the direction of your belly button. Repeat the thrusting and curling managing the speed to build pleasure.
On the off chance, if your fingers are not enough for the climax, you can even go for the toys like dildo or butt plug.
But avoid using any regular sex toy as special toys are designed for anal pleasure corresponding to the diameter of the opening.
While going for a sex toy always pay attention to:
Pressure – keep the pressure on the P spot comfortable enough to stimulate it and not harm it.
Depth – there are many sizes of anal toys available, hence always prefer the ones that do justice to your pleasure
Vibrations – some toys let you control the speed, and pulses allowing you to reach your climax faster.
Though both external and internal stimulation is in practice these days, ultimately we had to pick the Best Way for Men to Have Prostate Orgasm it would be internally!
Moving ahead, we have some good tricks lined up for you to allow easy access to the prostate and also let you double the fun.
Tips for Having A Prostate Orgasm

#1. Start with self–pleasure
Before asking out your partner to help you with prostate orgasm, we always suggest going for self-pleasure.
This increases your experience with the stimulation and clears out what exactly excites your prostate.
#2. Give your partner time to get comfortable
If you wanna give your partner the exciting experience of prostatic orgasm, we advise you to let your partner get comfortable with your finger going in!
Avoid massaging the prostate immediately as your fingers go in, play with the tissues and let them relax.
Once both your partner and the tissues down there are relaxed you can go ahead with the stimulation.
#3. Try sex positions that allow easy access
Trying out different sex positions that allow easy access to the opening can help you reach a powerful climax.
Some popular positions for both internal and external stimulation are:
Facedown
Legs Up
Doggy Style
You can do it with your partner, or even on your own for self-pleasure.
#4. Stimulate your penis simultaneously
For a strong and intense orgasm, rub or massage your penis as you massage your prostate to stimulate them both together.
This makes you have a strong and exploding orgasm that might even make you shudder with the explosion of pleasure.
Other than pleasure, prostate orgasm is also known for many of its health benefits.
Health Benefits of Prostate Orgasm
There are not many clinical pieces of evidence that claim prostate orgasm as a bonanza of health benefits.
But yes some experts and researchers do find it healthy for:
Erectile Dysfunction:
It is a condition where a man finds it difficult to sustain an erection and fails to even penetrate their partner.
Prostate stimulation is sometimes used to treat and cure certain symptoms of ED alongside medications.
Urination:
Swelling in the prostate exerts pressure on the urethra that hinders the regular flow. Massaging reduces the swelling and improves the flow.
Reduces painful ejaculation:
Sometimes blockage in the reproductive system can cause painful ejaculations.
Massaging the prostate can help release the blockage and improve ejaculations.
Relieves prostatitis:
Sometimes massaging the prostate is used as a first-line treatment for prostatitis or the inflammation of the prostate.
Though antibiotics are more commonly used now, even massage remains a popular choice.
Conclusion
Lots of lube and patience help you achieve the prostate orgasm, or the dynamo of orgasms as nothing gives you pleasure like this orgasm.
However, questions arise on How To Give Yourself A Prostate Orgasm because of the tremendous amount of hand skills it requires.
The right angles and the right techniques are what you need to practice for the perfect edge!
While some people master it in the first episode itself, some people might take time.
It can even be possible that you don't get an orgasm post prostate stimulation.
Hence pleasure varies from person to person, and hence techniques vary from person to person.
FAQs
Is it healthy to stimulate the prostate?
Yes, it is healthy to stimulate the prostate as massaging the prostate can release the fluids that are stored in the prostate.
Studies also show that massaging the prostate a few times a week can relieve pain and pressure complaints among middle-aged men.
How do I know if I found my prostate?
The prostate is a small walnut-sized shape soft gland located between the anus and testicles towards the wall, 3 to 4 inches from the anal opening.
If you are inserting your fingers in the anal area to locate the gland, a small circular-shaped mass is what you need to look for.
How do you hit a man's G spot?
There are many techniques of hitting the G spot or the prostate of a man.
The most popular way is the hither technique that stimulates the gland and sends sexual waves throughout the body of a man.
Will the prostate orgasm hurt?
There will be minor discomfort initially as you slide in your fingers, as the tissues are tight in the area.
Once your tissues relax, you won't be feeling any types of discomfort.
This discomfort is not gonna be severe pain.
Are prostate massaging and prostate orgasm trying the same?
Yes, they are similar, as massaging the prostate can cause sexual stimulation and orgasm.