Is Prime Male Better Than TestoFuel? The Ultimate Comparison Review
Jake Felix
TestoFuel vs Prime Male make a dashing entry into the best testosterone boosters 2021!
Highlighted for their highly efficient and powerful t-boosting ingredients, here is what you must know about the supplements.
But before we take you deeper into the details of these new trends, here is what you should know about choosing the right t-supplements.
Testosterone boosters are supplements that naturally stimulate the production of testosterone and do not add up synthetic testosterone.
Their major benefits include:
Boosting sex drive
Enhancing erections and performance at bed
Muscle gains
Toned up body
And a lot more…
Let's find out if these supplements succeed in delivering all of these.
TestoFuel vs Prime Male – Approved Science Testosterone Booster Reviews
TestoFuel and Prime Male are two of the most loved testosterone shooters around the globe.
They have been ranked as the top premium quality supplements by many health experts.
However, coming from two different brands, with two different stories, both these supplements carry striking differences as well as similarities.
TestoFuel Official Website >> testofuel.com
Prime Male Official Website >> primemale.com
Both TestoFuel and Prime Male pills have similar claims of:
Stimulating natural production of testosterone
Boosting libido
Balancing your mood
Increasing muscle mass and strength
Boosting confidence
But the actual winner is the one who scores the max in the following categories:
Ingredients
Results
Safety
Budget
Hence, the following blog compares both these supplements are based on other factors to announce which one of them is the best testosterone booster.
TestoFuel vs Prime Male: Product Overview
TestoFuel

Prime Male

9 Ingredients

D-Aspartic Acid
Vitamin D
Oyster Extract
Ginseng
Fenugreek
Vitamin B6
Magnesium
Vitamin K2
Zinc
—
—
—

12 Ingredients

D-Aspartic Acid Calcium Chelate
Black Pepper
Boron
Korean Red Ginseng 4:1 extract
Luteolin
Magnesium
Vitamin D3
Ashwagandha Extract 4:1
Vitamin K2
Nettle Root 10:1 extract
Vitamin B6
Zinc

Designed For

Younger generation and athletes

Designed For

People above 30 years of age

Results

Boosts sex drive
Enhances muscle gains
Shapes the body and give a better physique

Results

Reverse aging in men over 30
Enhances the skin texture and reduces aging signs
Brings testosterone levels back to 20s.

Dosage

1 capsule four times a day

Dosage

1 capsule 4 times a day

Side effects

Not reported yet

Side effects

Not found

Price per bottle

$59.00

Price per bottle

$69.00

Available On

Available On

Manufacturing Company

Roar Ambition Ltd

Manufacturing Company

Roar Ambition Ltd
Overall we can give these pills a rating of:
TestoFuel – 4/5
Prime Male – 5/5
But that's based on a mere overview, we dig deeper to analyze more about each of these products.
Starting with the background check we highlight all the aspects of these pills.
Brand Check – TestoFuel And Prime Male
TestoFuel Testosterone Booster
TestoFuel is a product from a reputed supplements brands famous for their workout supplements – Roar Ambition.
Some of their key services for customers include:
Economical ranges
90-day money-back guarantee on TestoFuel
Updated formula
Great customer support
Prime Male Testosterone Booster
Prime Male is a highlighted product from the brand Roar Ambition Ltd.
The team has mainly focused on one of the most important factors causing testosterone decline – the age factor.
They have been clever to target a cause which tills now no other the supplement has done.
There are many qualities of this company that attracts many customers:
Good discounts and sales
Customer support
Quality guarantee
Safety standards
Despite both the products coming from good warehouses, what's the most important concern of buying a supplement is the result.
Hence, here we compare the results of both these pills by analyzing real customer experiences.
TestoFuel vs Prime Male Results
TestoFuel Results
According to various TestoFuel before and after pictures, reviews and transformations, it has the potential to show the following results:

First Month Results :
Noticeable reduction in fat
Muscle gains visible
More energy and stamina
Better endurance
More focus
Second Month Results:
Muscle gains improved with results going as good as the gain of 5 kg
Higher libido
Chiseled biceps
Visible abs
Third-Month Results:
Some people were able to see astonishing transformations like abs gain and more sculpted mass. T
The testosterone levels improved along with their performances.
However, all these results were not exactly in the time frame for everyone.
The results varied from person to person because of different body compositions and routines.
Checkout more customer experiences at testofuel.com
Prime Male Results
On analyzing the Prime Male real customer reviews, we came across the following impressive results:

First Month Results:
Increase in energy
Boost of sex drive
Improved focus
Balanced mood
Build lean muscle
Second Month Results:
Reduced waist size
The massive increase in libido
Better sleep quality
Higher testosterone levels
Third Month Results:
Longer lasting erections
Better performance
No more aging signs
Less fatigue
More confidence
Checkout more customer experiences at primemale.com
Comparing the overall results, we find two major conclusions:
TestoFuel is more oriented towards muscular gains
Prime Male is more of a testosterone booster to build lean muscle, shed excess fat, revive energy, sex life, and confidence
But, yes these Male Testosterone Boosters are definitely worth trying!
Let's quickly glance at what makes them so powerful.
How Do These Testosterone Boosters For Men Work?
TestoFuel Working Mechanism
TestoFuel is powered by 100% natural ingredients that stimulate your body to produce more testosterone.
The increase in the testosterone level further helps boost the regeneration of muscles aiding in huge gains.
Further, it also improves the recovery of your muscle hence enhances stamina for your better workouts.
Apart from that, it helps more muscle synthesis by increasing the HGH by the indirect effect of testosterone.
Prime Male Working Mechanism
Prime Male is fueled by 12 clinically proven ingredients that reverse your aging signs by enhancing the free testosterone levels in your blood.
All these nutrients are backed by scientific pieces of evidence that surge testosterone to a level in the early teens.
In addition, they are the safest, surest, and fastest way to reverse the signs of low T and eliminate its many symptoms like weight gain, lack of energy, low libido, muscle loss, and fatigue.
The best part! Only Prime Male testosterone booster has the optimal daily dosage of all 12 ingredients.
Since the whole working process is based on the ingredients, we must have a keen eye on the formula list.
Formula – Comparing The Ingredients
Here we have two of the Best Testosterone Boosters mainly focused on increasing your testosterone levels.
Hence, their formula follows a common core, adding up unique ingredients to direct their formula for unique purposes.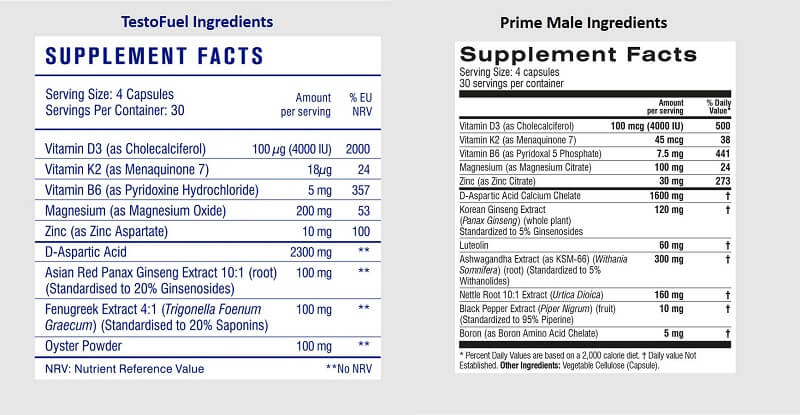 Core Ingredients Of TestoFuel And Prime Male
#1. Vitamin D3
It has testosterone boosting properties and clinical studies link Vitamin D3 deficient people with lower T-levels.
#2. Vitamin K2
The ingredient has a direct role in the testes and promotes the production of testosterone.
Another important role is protecting the free testosterone from getting converted into estrogen.
#3. Vitamin B6
Studies have found Vitamin B6 is effective in enhancing testosterone levels among animals.
It does so by regulating healthy receptors.
#4. Magnesium
Magnesium helps in better absorption of testosterone for its smooth functioning.
On comparing the dosage of magnesium present in both the supplements, TestoFuel has more concentration of this mineral.
#5. Zinc
Zinc is a mineral found effective in boosting testosterone among many clinical studies.
It also protects testosterone from oxidative damage.
#6. D-Aspartic Acid
Most of the testosterone boosters contain DAA because of its ability to boost testosterone.
It is mainly an amino acid that helps in the synthesis of new testosterone.
#7. Ginseng
Ginseng is an ancient medicine among many cultures for its aphrodisiac properties.
It has exceptional t-boosting properties that can enhance your libido and erections.
These were some of the core ingredients that almost every other testosterone booster uses to stimulate the natural production of male hormones.
However, game-changers are the unique ingredients that add up benefits to a formula.
Unique TestoFuel Ingredients
Testo Fuel has two major ingredients not found in many testosterone boosters:
Fenugreek:
According to studies, fenugreek has a protective function for testosterone.
Some enzymes break down testosterone into estrogen or converting it into DHT.
Fenugreek inhibits such enzymes increasing the free testosterone levels.
Oyster Extract:
Oyster is rich in zinc and hence stimulates testosterone production indirectly.
Further, they have other major benefits for your overall health.
Read The Complete List Of TestoFuel Ingredients At:
Unique Prime Male Ingredients
#1. Luteolin
Luteolin is found in citric fruits like oranges and lemons. Its main function is to boost the production of testosterone by limiting the release of estrogen.
The prime male uses a decent dose of luteolin which is 60 mg.
#2. Mucuna Pruriens
A whopping 300 mg of mucuna surges testosterone and prevents the inactivation of free testosterone.
According to clinical pieces of evidence, daily intake of an adequate amount of the ingredient can boost testosterone by 27%.
#3. Nettle Root Extract
Free testosterone can be inhibited by SHBG as it binds to it and converts it into unwanted substances in men.
But nettle root extract prevents this and ensures that there is enough amount of free testosterone in your body.
#4. BioPerine
To channelize the benefits of all the ingredients present in the formula, they need to absorb.
Bioperine helps improve the bioavailability of the ingredients and regulates absorption.
Better absorption of ingredients leads to better testosterone and benefits.
#5. Boron
Clinical studies find daily intake of Boron beneficial in boosting testosterone and can do so by almost 29%.
The prime male uses 5 mg of boron which is a decent amount of healthy functioning.
Read The Complete List Of Prime Male Ingredients At:
Comparing the ingredients:
TestoFuel – has two ingredients powering the muscle gains.
Prime Male – 5 unique ingredients that mainly focus on surging testosterone and muscle building.
Despite different ingredients going in their formula, they have almost similar dosages which we talk about in the next section.
Dosage And Usage – TestoFuel vs Prime Male
The formulas of both supplements have been carefully crafted into pills to make sure that you get enough of the ingredients.
These dosages have been designed to work throughout the day and hence following the right directions is important to channelize maximum results.
TestoFuel Dosage
TestoFuel has to be used 4 times a day, one pill each time.
Though you can even divide this into two pills twice a day, for best results we suggest you go for one pill four times.
Since the dosage is already high enough to meet health needs, you don't need to overdose in hope of quicker results.
Prime Male Dosage
The prime male follows the same pattern of one pill every four times a day.
This pattern ensures the clock release of ingredients for quick and sustained results.
But avoid overdosing as it contains many vitamins and excess of vitamins can lead to hypervitaminosis.
The dosage and usage instructions are quite easy to follow and would not invite any sort of side effects for the following reasons.
Safety Check – TestoFuel vs Prime Male
Both the supplements are 100% natural and hence won't cause any harsh effects like the medicinal supplements to do.
Yet there might be allergic reactions or other minor side effects which we discuss below.
Prime Male Side Effects – Are They Safe?
The supplement has 100% natural ingredients that have been curated into a formula under FDA-approved facilities.
However, the concern is about the dosage.
Overdosing can lead to minor side effects and hence, it is always suggested not to exceed the limit.
TestoFuel Side Effects
Though even TestoFuel has natural ingredients some ingredients can cause nuisance among allergic people.
People have reported an allergic reaction to DAA, which leads to minor transient effects like nausea.
Apart from that, there haven't been many complaints and negative reviews about any of the supplements.
We also bring you excerpts from real customer reviews to have a better look at the safety and results side.
TestoFuel vs Prime Male Customer Reviews
Customer testimonials help get a better view of the experience with a pill.
Here are excerpts from real experiences shared by people who have used the supplements.
TestoFuel Reviews
TestoFuel has given me amazing gains. I gained almost two inches on my arms, more than 3 inches on my chest, and a ripped look. My abs are more etched out and my energy levels have been keeping me hooked to the routine. I have more strength now and I can only perform more reps of bench press. This has just changed my whole gym session. I would recommend it to anyone looking forward to getting masculine.
Brenon, USA
When I first started using TestoFuel I was too skeptical of how it would turn out. For the first two weeks, it didn't show much of an effect. But by the third week, I could feel tightness around my muscles. though I would not call it a magic pill that can do wonders, but it certainly did powerful changes for me in both bedroom and sweating room.
Ian Johnson, USA
Prime Male Reviews
I bought Prime Male on my friend's recommendation. Earlier I was using some other supplement which caused jitteriness and many other side effects. But since I have started using Prime Male all that I have got is results like betta er energy levels, mo, re toned waistline, and a feeling of teens, but with its side effects. It's been almost three months and even my testosterone levels have got back to the once healthy level I had back in my 20s.
Maxx
I had been suffering from chronic depression that caused sudden weight gain and I was almost horrified to look at my body after all that. My sex desire had gone low because of all that and had completely lost the fun in my life. But then Prime Male happened and it helped me get back to the shape which I once admired. Even my wife is shocked at what has happened to my strength all of sudden. It has been a real good experience for me.
David
The reviews surely kick in good news for all those people looking to gain back their long-lost confidence.
Since most of you are already ready to order your pack of testosterone boosters, let us introduce you to prices and packages.
Prime Male vs TestoFuel – Where To Buy?
The best place to purchase your own testosterone supplements is the official website.
TestoFuel Official Website >> testofuel.com
Prime Male Official Website >> primemale.com
The official website offers perks like no other third-party site can offer.
Though you might find some lip-smacking deals online with unbelievable discounts going above 70%, those are just to scam you up!
The real authentic pack of supplements can only be bought from the official website.
Here we compare the price list and all other minute details related to shopping the above two boosters.
| | | |
| --- | --- | --- |
| Package | TestoFuel | Prime Male |
| Price Per Bottle | $59.00 | $69.00 |
| Recurring Charges | No | No |
| Free delivery | Selected Packages | Free shipping on selected packages |
| Free supplies | Yes | Yes |
| Secured Payments | Yes | Yes |
| Multi-buy savings | Yes | Yes |
| Good customer Support | Yes | Yes |
Since now we know what perks we get with ordering the supplements from the official website, let's quickly tally up the prices.
TestoFuel Prices and Packages
1 Month Supply:
1x box of TestoFuel Cost – $59
No Recurring Charges
2 Months Supply
2 x boxes of TestoFuel Cost – $118
1 free box of TestoFuel
Free US and UK delivery
3 Months Supply
3 x boxes of TestoFuel Cost – $177
2 free boxes of TestoFuel
Free worldwide delivery
ULTIMATE 360 – BUY 12 GET 30% OFF
12x boxes of TestoFuel Cost – $495.60 | SAVE:

$212.40

30% Discount
Free worldwide delivery
Prime Male Prices and Packages
1 Month Supply
1x Box of Prime Male Vitality Cost – $69.00
120 capsules per box
2 Months Supply
2x Boxes of Prime Male Vitality Cost – $138.00
Contains 2 boxes of Prime Male Vitality
120 capsules per box
+ FREE USA & UK Shipping
4 Months Supply
3x Boxes of Prime Male Vitality Cost – $207
3 boxes + 1 free
120 capsules per box
Free worldwide shipping
Conclusion TestoFuel vs Prime Male
Both the supplements are highly reputed and have some good qualities to be called out as good testosterone boosters.
Yet we can only choose one to go ahead with.
Though both the supplements boost testosterone but have some different pathways:
1) TestoFuel is a supplement for people with low testosterone who want to get ripped and gain muscles.
2) Prime Male is more of a supplement that helps people struggling with their daily performance because of age-induced testosterone decline.
In addition, with Prime Male you'll achieve the following:
Strong physique and lean muscle
Higher libido
Lose excess weight
Overcome fatigue
Improve mood
Sharpen your mind
Gain strength
Hence, you should pick a supplement that defines your goals.
With that, the decision finally comes back in your hand.
FAQs
Why buy TestoFuel?
TestoFuel is one of the bodybuilding supplements that derives its benefits from naturally stimulating your testosterone levels.
Hence, you can buy the supplements if you feel your testosterone levels are coming in between your body goals.
Who can use TestoFuel and Prim Male?
Anyone who is above 18 can use the supplements as they are completely safe and free from any major side effects.
However, for better results, people above 30 should have a major focus on Prime Male.
Which one of TestoFuel and Prime Male contains stimulants?
None of them contain stimulants and won't in any way interfere with your sleep cycles.
Should one cycle TestoFuel?
TestoFuel is a dietary supplement formulated for daily intake and there is no necessity of using it in cycles.
Can Prime Male help in stacking muscles?
Prime Male is not specifically formulated for muscle gains but its ability to boost testosterone can help pack on some lean muscles.
On the Of chance, if you really want to gain muscles while using Prime Male we suggest you to combine with healthy exercises.
How is Prime Male different from other supplements?
The age-reversing ingredients present in Prime Male make it different from other supplements.
What are the other health benefits of Prime Male?
Prime Male can help reduce the symptoms of diseases caused by low testosterone levels like:
Uncontrolled blood sugars
Blood pressure
Mood swings
Depression
Overweight
Loos of bone density