Is There a Difference Between Sexual Passion And Physical Intimacy?
Jake Felix
Does your relationship have the intimacy to keep it strong from the blows of the world?
Or are you just having sex?
These questions might make you ponder on are sex and intimacy two different things!
Well, yes! Relationship experts believe that sex and intimacy are two related yet different terms in respect to a relationship.
While one of them is full of love, the former could just be an act of pleasure.
Now what defines these two words is how you define your bond with your partner, if it's love or just a casual fling with lots of bed crawling.
Today we take up an important concern of many couples, how intimacy and sex are different and what impact they have on your relationship or individuality.
Sex vs Intimacy – Building The Core of Relationships
A reference to intimacy between two partners is often inclusive of the subject – sexual passion!
It is good to know that people don't separate sexual activities from intimacy, rather include it in the acts of intimacy.
But intimacy is not just about sex, instead, it is a lot more than that with connections, love, feelings, bond, and much more.
Though inclusive, the sexual connection could be different from what intimate connections are.
Difference between Sex vs Intimacy
Intimacy is a broad term that defines emotional connection and vulnerability between two partners.
Any relationship be it a romantic relationship or just a friendship can have intimate moments as intimacy is all about communicating and comforting each other.
On the other hand, Sex is a versatile term concerning a relationship; it could either be a part of intimacy in a loving relationship or just a physical activity outside of the relationship.
However, what brings confusion amidst Sex vs Intimacy is one of its types – physical intimacy.
This confusion can only be resolved once you have fully understood what sex and intimacy independently mean.
What is Intimacy?
Intimacy defines a connection between two people who are vulnerable, open, and can freely share their thoughts.
It's not always about a romantic relationship but can also be a part of friendships.
Now that might be confusing for many people because in layman's terms intimacy has always been about physical closeness.
But factually, there are many types of intimacy that two people share.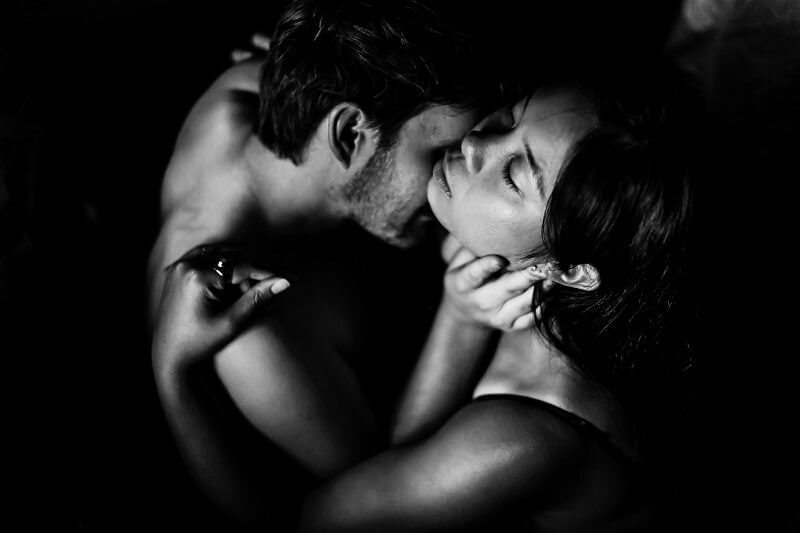 The 4 major types of intimacy seen among couples, or even friends are mainly:
#1. Emotional intimacy
As the words suggest, emotional intimacy is the exchange of thoughts and feelings between two or more people.
It could range from sharing your emotions like fear, love, sorrow to even sharing your dreams and goals.
Emotionally intimate couples are more secure and understand each other better which builds a strong core.
In simple words, it creates a safe place for both you and your partner to be your true selves.
Some examples of emotional intimate moments are:
Have long conversations with your partner about how you feel about the bond and relationship shared. It could also be about what scares you about the relationship.
Coming back from work and sharing your experience at the workplace be it stressful or exciting.
A partner expresses feelings of insecurity about the other partner's bonds with exes.
Sharing past traumatic experiences or happy experiences.
#2. Intellectual intimacy
The freedom to express your opinions in a relationship develops intellectual intimacy among couples.
You can take your own decisions, communicate your opinions and act on them.
In short, you are still independent despite being in a relationship makes your bond stronger and brings you closer to your partner.
Some examples of intellectually intimate moments are:
Sharing your opinions on education without fighting to be right or wrong.
Reading and discussing a book together is just an exchange of opinions and nobody dominates the other's opinion.
Intellectual intimacy can also be because of attraction towards how someone thinks and acts.
#3. Experiential Intimacy
Living certain experiences together builds memories, and creates jokes that only you guys know about.
This intensifies your relationship and brings you closer by making you a team.
According to experts, memories are strongly connected to your senses and hence experiential intimacy can make you happier and sometimes even upset.
Some examples of intimacy built out of experiences:
A couple training for a marathon together ends up sharing some key moments of boosting each others' confidence and pushing their partners ahead.
Often heard of cooking together?
Joint cooking builds experiential intimacy as it makes you a team creating many memories.
Going for long rides together where one handles the direction and another one drives too is a form of teamwork that brings you close.
#4. Spiritual Intimacy
Spiritual intimacy is not about visiting religious places or worshipping together, rather it comes from appreciating nature as well as appreciating each other.
Even long silent moments of appreciation build strong bonds.
Examples:
Going for early morning walks together gives you a moment to appreciate the sunrise as well as your togetherness.
Walking through the park feeling the cool breeze and holding hands feel peaceful and provide solace.
Relaxing with each other near a pool of freshwater leaves a soothing and calm feeling in your mind can be an example of spiritual intimacy.
In short spiritual intimacy is feeling calm around each other.
While these 4 types of intimacy show that intimacy is just about connecting and feeling comfortable around each other, what matters the most is differentiating physical intimacy from sex.
#5. Physical intimacy
The key factors that pave way for physical intimacy in a relationship are the 4 types of intimacy that you just read about.
Physical intimacy is a broad term that summarises actions like:
Sensual touching
Emotional act of hugging
Kissing
Or even sex
Hence unlike what many people think, physical intimacy is not just sex but just involves different types of physical interactions.
If someone had to ask what is the most intimate act the answer always would be physically intimate moments.
We say this because physically intimate moments not just build your relationship but also make you happy by releasing happy hormones.
Moving ahead, we now define sex and also lay out the basic differences that make sex different from intimacy.
What is Sex and how is It different From Physical Intimacy?
As we read in the above sections, sex could be a versatile term but its true definition remains as being a physical act that doesn't always attach emotions to itself.
Sometimes it could be just to satisfy one's need and explode an orgasm, while at some times it could be because of physical attraction.

Sex vs Physical Intimacy
Physical intimacy and sex can be easily differentiated as physical intimacy involves physical interaction of various forms and not just intercourse.
In terms of relationships, sex could be an expressive form of love, emotions, feelings, and comfort and hence can be termed physical intimacy.
But when sex occurs:
By making a payment
Just a one night stand where you forget the other person the next day
Just for fun
Without consent
Then it becomes just a mere act!
Also, even if sex is absent from a relationship, couples can still enjoy physical intimacy with nonsexual touches and other gestures like:
These gestures don't need any sexual involvement but still show intimacy making the terms physical intimacy and sex two different definitions.
Once this determination is made next comes an essential question of whether sex and making love are two same terms.
Conclusion – Sex vs Intimacy
The term intimacy immediately sparks the lights of the sexual steamy session with a partner, or just with a random fling.
But the true definition of intimacy takes it far from just a mere sexual act.
While we all know that sex is that passionate wild night that leaves you and your partner's body satisfied.
But intimacy is more of mental satisfaction and connection that you feel when you are with your partner.
It's a group of several emotions that connect you with your partner to a level that physical intimacy turns into sex for expressing your emotions.
But sex, without this connection or intimacy, is just a union of bodies leaving your body pleased.
Jot down the differences and finally make a move on your partner with more intimate moments as we take your leave waiting for your comments and queries down the comment box.
Sex vs Intimacy FAQs
What is intimacy to a man?
For a man, intimacy is knowing someone deeply and expressing your true self to that person.
Sometimes men find it difficult to express themselves and hence intimacy for them is a little complex as compared to women.
However, it doesn't mean a man doesn't need intimacy or doesn't want to get intimate with the woman he feels for.
What are the signs of intimacy?
The following signs in a relationship prove that you have built a strong intimate connection with your partner:
Strong sense of trust between you and your partner
You can be vulnerable around your partner and share whatever you want to speak about.
They accept you in every possible way.
You can depend on them when you feel things are not right.
There is a feeling of safety and security.
You are spiritually connected with them and feel at peace when they are around
Can a relationship survive without sex?
Yes, a relationship can survive without sex but at some point, if one person is sexually interested but the other person isn't, it could decrease the connection between the couple.
What does intimacy mean to a woman?
Intimacy can have different meanings for different women, but women feel intimacy when they talk, express their thoughts, and feelings with the person they love.
For them, intimacy is more of an emotional, intellectual and spiritual type and hence they take time to understand a relationship.
However, this could be different for different women.
What kills intimacy in a relationship?
Conflicts and arguments can kill intimacy in a relationship.
If the conflicts are exaggerated with anger, resentment, lack of trust, being hurt, and feeling less worthy can make it difficult to rebond with your partner.
Is it necessary to have sex for building intimacy?
No sex isn't compulsory in building intimacy rather it's a way of expressing your feelings and exchanging the feeling with your loved one.
It does make your intimacy with your partner better as sex would pull out your fear of commitment and even makes you bond better with your partner.
You can try starting with initial levels of physical intimacy like hugging, kissing, and becoming comfortable with your partner if you don't want to have sex.