Alcohol Use And Erectile Dysfunction: Can It Cause Permanent ED?
Jake Felix
The quick results of a few glasses of booze might make you feel like a sex god, but does it work similarly in long run?
There is a popular belief that intoxication, be it with alcohol or other stuff raises your sexual performance and turns you into a beast in bed.
But the facts call it all wrong!
The science behind alcohol and sexual health links an important chapter on erectile dysfunction.
This could either be a short-term phase or a long-term disorder, depending on your habits.
But since netizens have got hooked on some temporary good sedative effects of alcohol, it's time to discuss where we have been going wrong.
Today we have a piece of prominent evidence on alcohol and erectile dysfunction that rejects all popular beliefs of alcohol being a sex booster.
Stick to the end to also find out what other sexual health problems alcohol can make you go through.
Alcohol and Erectile Dysfunction – Science and Study!
Alcohol is not just a drink but a whole culture used to lighten up the mood because of its depressing effect on the brain.
While at moderate levels, it does the job of damping the mood perfectly, chronic use of alcohol can have severe effects on your sexual health.
That's what a prominent study conducted on the Link between Alcohol and Impotence says.
But before we take on the study and its results, it's important to understand what alcoholism means!

Alcoholism is a broad term that can be called a chronic and progressive disease that is characterized by:
Obsession with alcohol
An urge for compulsory drinking
Inability to stop yourself from drinking
Chronic alcoholism can be progressive and develop into mental and physical dependency often called alcohol dependency syndrome which forms the basis of the study.
The Study
A total of 100 males admitted to the de-addiction center of the National Institue of Mental Health and Neurosciences (NIMHANS), Banglore were selected for the study.
All these subjects were diagnosed with alcohol dependence syndrome with easy withdrawal symptoms.
The basis of selecting the subjects for the study was:
Males between 20 to 50 years of age
Were married or were sexually active
And were excluded if they had any addiction to other substances than alcohol and tobacco.
These participants were tested for any experience with erectile dysfunction in the past 12 years using a checklist.
This checklist contained the following list:
Low sexual desire
Ability to maintain erections
Premature ejaculation
Delayed ejaculation
Orgasm rate
Pain during sex
Dissatisfaction with sex
Results:
The amount of alcohol consumption among the participants was averagely noted to be about 8-42 drinks per day which define chronic alcoholism.
Results showed:
33.3% of participants showed erectile dysfunction out of which 19 people found it difficult to achieve erections while 13 people were not able to sustain erections.
36 out of 96 subjects showed premature ejaculation
10 people showed delayed ejaculation
An important fact was also noted that the results were dependent on the amount of alcohol consumed per day, and not on the years a person was into alcoholism.
Hence, the study not only confirms that alcoholism does cause erectile dysfunction but also brings out many other sexual problems that it could cause.
But the question that remains is what's the effect of alcohol on sexual health that leads to the condition of ed.
How does Alcohol Affect Erectile Dysfunction?
Alcohol works as a depressant for your central nervous system and hence produces a sedating effect on the body.
This is one prominent reason why alcohol makes you feel light and relaxes your body.
But with sedation comes a negative effect on your motor skills and can cause immediate temporary ED or long-term erectile dysfunction.
Discussing these two alcoholism-induced erectile dysfunctions will help you understand better why alcohol and erectile dysfunction are related.
Short Term Erectile Dysfunction or Whiskey Dick
Whiskey dick is a quick response post-drinking alcohol. It is characterized by the inability to get erect after taking alcohol.
In such a case, you will either be unable to achieve an erection or fail to sustain it for long.
Now the amount of alcohol that takes for whiskey dick is unknown as different people can have different tolerance to alcohol.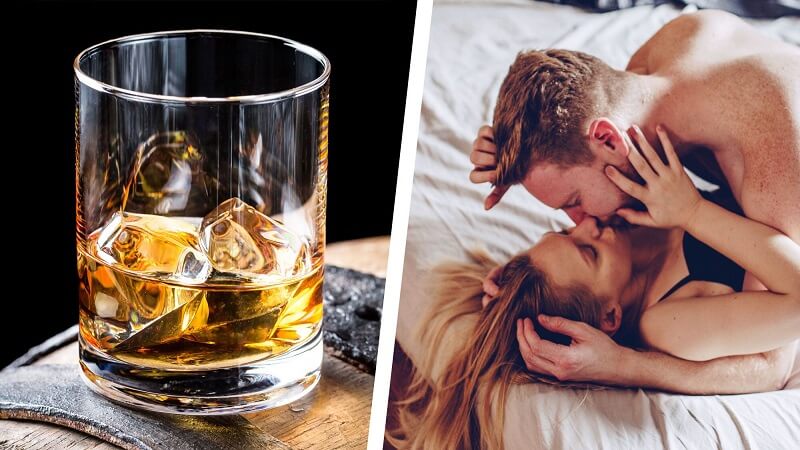 Why does alcohol cause whiskey dick?
Whiskey dick is caused by the effect of alcohol on various systems of your body involved in sexual arousal:
When you are sexually excited, your brain sends signals to the penis for an erection. But under the intoxication of alcohol this signal slows down and reaches the penis late resulting in short-term ED.
Alcohol and erectile dysfunction can also be linked to the dehydrating effect of alcohol on the body. Since water is important for blood volume when your body gets dehydrated the circulation slows down. And as everyone knows, blood reaching the penis is essential for erection, ED occurs.
Alcohol affects dilating the blood vessels that can improve the flow of blood to your penis for a short time. This improves sexual function for a short time making people believe that alcohol is good for sex. But after a few minutes, the blood drains out of the blood vessels opened by alcohol and your penis returns to the flaccid state.
However, whiskey dick doesn't last long and once you are sober your erections are back to normal.
Long Term Erectile Dysfunction
Using alcohol in the long term affects your whole body which ultimately results in erectile dysfunction.
The most important effects of alcohol that can be held responsible for developing sexual dysfunction are:
Long-term usage of alcohol can cause depletion of testosterone which is the key hormone that regulates many sexual functions.
Alcoholism can also lead to shrinkage of the testicles leading to inhibition in the production of testosterone ultimately leading to ED.
The nerve transmission between the brain's pituitary gland and the genital area gets hampered.
Studies also show that drinking too much alcohol every day can damage the nerves of the penis resulting in complete impotence.
Unlike whiskey dick, long-term erectile dysfunction doesn't go off on its own and might require medical treatments involving medications.
However, sometimes people on erectile dysfunction drugs often get a mindset that once they start taking the medications they can continue their regular alcohol habits.
But that's again not the case!
Alcohol And Erectile Dysfunction Drugs – Interactions
People often have a misconception that taking drugs to treat erectile dysfunction makes it safe for them to drink alcohol.
But health professionals suggest people on erectile dysfunction medications avoid alcohol consumption as much as they can!
This is because of the severe side effects that the combination can have like:
A sudden decrease in blood pressure
Postural hypotension
Irregular heartbeat
Constant headaches
Out of these, hypotension could be a case of concern as that could link up many more diseases and side effects.
Hence the best possible method to stay out of alcohol-induced erectile dysfunction is to either switch to moderate alcohol intake or completely stop taking it.
You can also try on some good healthy habits to prevent erectile dysfunction which you might wanna try for a healthy quality of life.
Ways to prevent erectile dysfunction!

#1. Quit smoking
Smoking similar to alcoholism is linked with many diseases associated with blood vessels and nerves.
These diseases could be the initiation of many sexual problems including erectile dysfunction.
#2. Add up a healthy diet
If you have already started noticing minor abnormality in your erections, you can try going all-natural with superfoods for ED.
There are many types of foods that help in improving erections like:
Blackberries – contain flavonoids that improve erections and prevent ED.
Watermelon – contains L-citrulline that improves the blood flow to your penis for better erections and can help in preventing ED. It also has lycopene that improves heart health if the ED is because of the underlying disease.
Spinach – contains folate which according to studies has been linked with erectile dysfunction.
Oatmeal – Whole grains contain an amino acid that relaxes the smooth muscles of blood vessels and hence improves circulations.
Pomegranate – can improve erectile dysfunction in just 4 weeks according to a prominent study conducted on 53 men.
Other than adding, you should also cut those foods out of your platter that can contribute to your ED like foods high in fat and sodium.
#3. Physical activities
Being physically active improves blood circulation and hence promotes the blood flow to your penis.
However, if you are suffering from erectile dysfunction we suggest you consult a doctor before going for any activity.
You can try going for walks and brisk running.
#4. Take enough naps
There are two reasons why we ask you to take good naps:
First not taking enough sleep drains you out of energy for any work, and that includes even sexual energy.
Second, the maximum amount of testosterone is released when you are at rest, this could be a good thing for improving erections.
#5. Boost testosterone
Erectile dysfunction is common among people who have low testosterone levels.
Hence always be conscious of your testosterone levels, you can try going for natural methods to boost testosterone if you are above 30.
This could be a diet that boosts testosterone, or even activities that boost testosterone.
Generally, we suggest that people with low testosterone levels go for natural supplements with ingredients that can boost testosterone.
This was all about alcohol and erectile dysfunction, but there are also some other effects of alcohol that you must know about.
Other Effects of Alcoholism
#1. Relationship Issues
While alcohol does damage your health but what it also damages is your relationship.
There could be several factors associated with alcoholism that wreck a relationship:
Financial issues because of chronic alcoholism lead to spending huge amounts on alcohol
Economic insecurity arises with growing urge and dependency on alcohol.
Sexual assaults because of intoxicated actions
Alcoholism can often lead to divorce as it completely controls your mind where you put aside everything for alcohol.
#2. Psychiatric illness
Alcoholics have often been diagnosed with psychotic illness, with the two most common cases being depression and anxiety.
This relationship is often vice versa, where too much alcohol can cause psychotic illness, and psychotic illness can often lead to alcoholism.
#3. Sexual problems other than ED
As reported by the study above, many other sexual problems kick in due to chronic alcoholism like:
Delayed ejaculation
Premature ejaculation
Anorgasmia
Lack of sexual interest
Poor libido
Conclusion
Alcohol and erectile dysfunction are two terms that couldn't be related unless a study on alcohol dependence syndrome and sexual health came to light.
The study was evident on how alcohol can turn your sexual health upside down!
It gave us numerous effects of long-term alcoholism on sexual health, but what was more severe was the effect on erections.
On the off chance, if you are also on the way to turning into a chronic alcoholic, it's not let you can still prevent an ED by just improving the quality of your life and adding some changes.
FAQs
If I Stop Drinking Will My Ed Go Away?
Yes, there have been pieces of evidence through clinical studies that alcohol-induced erectile dysfunction can go away once you stop taking it completely.
However, it would still need medical treatment and won't go away on its own after stopping alcohol.
How long does alcohol-induced ED last?
If it's acute, or whiskey dick it lasts usually till the time you are sober.
But in cases of long-term erectile dysfunction it could go on for months, and years until you get it treated with medications or natural therapies like pumps and supplements.
What is the fastest way to cure ED?
There isn't a particular way that we can call the fastest of all, but yes, taking medical help along with the following changes can fasten up the recovery:
Healthy erection boosting foods
Exercises
Pumps
Enough sleep
Boosting testosterone
Can a man with ED still orgasm?
Yes, if you can have sexual intercourse you can have an orgasm not once but multiple times. This was shown by a study where 99% of participants ejaculated on having sex.
How much alcohol causes ED?
According to the relationship between alcoholism and ED, drinking 8 or more units of alcohol a week for a long time can lead to erectile dysfunction.