What Are Some Iron Rich Foods? 15 Healthy Fruits And Vegetables
Jake Felix
Iron is an essential mineral that your body requires for its daily efficient functioning, like transporting oxygen to different tissues of the body.
But since your body cannot synthesize iron on its own, there is often a risk of iron deficiency.
Because iron is a precursor of the two oxygen-binding proteins, hemoglobin, and myoglobin, its deficiency directly acts on oxygen transportation.
This can cause several interferences in your daily life with symptoms like:
Early tiredness
Easy fatigue
Slow workouts
Less muscle synthesis and recovery
Weak immune system
And much more.
Hence having enough iron in your diet holds great importance for your daily routine including your workouts and physical activities.
Considering its importance, the following sections take care of your daily iron intake along with a diet plan for better iron consumption.
How Much Iron per Day For Avoid Iron Deficiency?
The daily recommendation of iron intake suggests:
8 milligrams of iron per day for adult men
Women aged between 19 to 50 years should consume 18 milligrams of iron every day.
For women above 50 years of age 8 milligrams of iron is enough
Women generally require more amounts of iron as compared to men during their reproductive age.
This is because of the constant loss of iron during menstruation every month.
Although everyone should consume enough iron to maintain a healthy balance, the following people fall at a higher risk of iron deficiency:
Women during pregnancy
People suffering from chronic disorders and illness
Women having heavy menstrual bleeding
Hence, they should focus more on adding good amounts of Sources Of Iron to their diet.
While iron is found in many vegetarian and non-vegetarian foods, not all of them carry adequate amounts.
Thus the following list of iron-rich foods will help you create the most effective diet to not just aid in healthy iron balance but also stay away from iron deficiency.
What Foods Are High In Iron – The Diet Planner!
The following list of iron-rich foods contains options for both vegans and non-vegans.
Although both plant and animal-based foods contain good amounts of iron, vegans face problems deriving enough iron loads.
This is because of the difference in the absorption of the type of iron present in them.
Animal-based foods have an iron that is fast and easy absorbing while plant-based foods have an iron that is not completely absorbed.
Animal-Based Foods Rich In Iron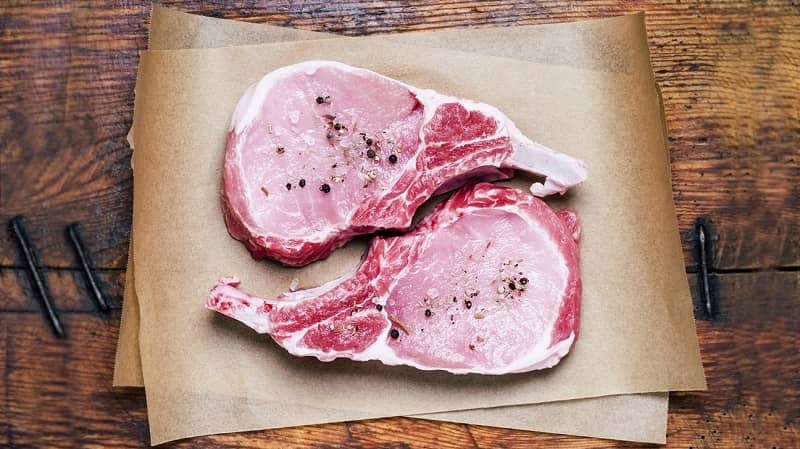 #1. Shellfish
Though all types of shellfish contain high amounts of iron, the most iron-dense ones are:
Adding clams can be the most beneficial way to add up to 3 milligrams of iron daily with just using 100 grams of it in your diet.
But that can vary and sometimes contain low amounts of iron, thus we suggest mixing up clams with other shellfish.
The reason why shellfish stands at number one in our list of iron-rich foods is because of its type of iron.
They contain heme iron which gets readily absorbed in the body.
Next on the list, we have meats that most of our non-vegetarians love to hog on.
#2. Organ Meats
Organ meat is the most nutrient-dense form of meat for deriving the maximum amount of nutrients.
The most famous organ meats for extracting a nutritious diet are:
The best part is all of them contain enough iron to fulfill your daily requirement.
For example, just 100 grams of beef liver meat can give you 6.5 milligrams of iron per day.
Along with iron you also get along a good deal of other nutrients like:
Proteins
Vitamins
Copper
Selenium
And choline which works well for your overall health.
Other than organ meat you can also go for the red meat which holds dense amounts of iron.
#3. Red Meat
According to clinical and scientific findings, ground beef can be a good way to increase the amount of heme iron your body carries.
For example, just 3 ounces of 93% ground beef can increase your daily iron intake by 2.63 mg of iron daily.
Researchers also suggest that adding meat or even poultry to your diet can reduce your risk of iron deficiency.
Here is how poultry can be a good option for iron intake too.
#4. Turkey Meat and Poultry
Turkey packs a dense nutrient content with just 3.5 ounces of dark turkey carrying 1.4 milligrams of iron for your daily requirements.
Along with that it also replenished your body with 28 grams of proteins with each serving and many other vitamins and minerals.
On the other hand, two large eggs can give you 1.68 milligrams of iron in a day and hence give you a good meal option for workouts too.
But since meat is not a daily basis food option, you can try making a change to your diet with the following options.
#5. Sardine
These small fish pack a lot of flavors and a highly dense nutrient profile with high concentrations of omega-3 fatty acids and Vitamin D.
But the best part for you here is that just one-fourth of a cup of sardines can offer 1.8 milligrams of iron which can be adjusted in the daily recommendation values.
You can look out for canned sardines and cook them with your flavors of sauces and salads.
#6. Chicken
Out of so many meats and poultry discussed, chicken is the best to pick with just the right amount of nutrients and health benefits.
But they don't carry as high an amount of iron as you find in other meats.
Even 3 ounces of cooked chicken will only provide you with 0.9 milligrams of iron but that's heme iron and hence better than plant-based options.
Try adding chicken to your favorite dishes like stews, salads, and sandwiches once in a while for a good iron level.
Although animal-based foods carry good amounts of heme-iron, that doesn't let vegan foods lag!
Here is a list of all the vegetarian iron-rich foods that you can get your hands on for a good iron intake.
Iron-Rich Foods Vegetarian

#7. Spirulina
On the off chance, you are looking out for Iron-Rich Foods For Anemia, Spirulina is the best option indeed.
It's a blue-green alga that packs lots of nutrients and has a strong flavor that many of you might love.
But the reason why it's here on the list is because of its nutrient profile boasting an 8 milligram of iron per ounce of spirulina.
However, since it contains non-heme iron, we suggest you add more quantity of food to your diet for better iron consumption.
Some other nutrients that you can derive from spirulina include amino acids, proteins, and vitamins.
Other than spirulina, vegans can also find their iron sources within leafies like the following.
#8. Spinach
One of the best sources of vegan non-heme iron is spinach with 1 cup of raw spinach providing you a good amount of 0.8 milligrams of iron.
Although spinach carries non-heme iron, its absorption is similar to many of the anima-based irons because of its high content of Vitamin C.
Hence, if vegans want to extract some good iron sources from the food list, adding spinach to your smoothies is not a bad idea.
Moving ahead we talk about some of the amazing snack options that you can try for getting a good iron meal.
Yes, we are talking about the various types of nuts and seeds that can make your evening a hemo-eve.
#9. Nuts and Seeds
There are many different seeds and nuts that you can try out for their iron profile, but the best ones include:
Peanuts –
for getting an adequate amount of iron from peanuts, try going for two tablespoons of peanut butter that can give you 0.5 milligrams of iron. But always go for natural peanut butter to avoid adding sugars and oil to your diet.
Pumpkin seeds –
Adding just 28 grams or one ounce of pumpkin seeds to your platter gives you 2.5 mg of iron along with some other nutrients like magnesium and Vitamin K.
Sesame seeds –
coming with a nutty taste, sesame seeds can be a great pick for an evening snack loaded with iron.
They carry 1.31 mg of iron per tablespoon coupled with many other nutrients that give it a nutrient-dense profile.
Other than seeds, what's coming next is not exactly gonna surprise you but put you in good mood.
#10. Breakfast Options
Who doesn't love starting their day with some delightful cereal recipes? Well, not sure about you, but we groove with its every bite.
And now, since your favorite cereals can give you a good amount of iron too why should you stay behind to try:
Fortified cereals –
There are many fortified bowls of cereal or cereals with added nutrients available around you.
Some of these cereals can carry a good amount of iron too, but that depends on which brand you pick up.
Oats –
Many of you start your day with oats, with one bowl of it fulfilling your stomach and cravings for the day.
But you will be delighted to know that just taking three-fourths of one bowl of oats, can give you 1.6 milligrams of iron.
But stay away from the sugar-coated oatmeal to avoid adding additives to your diet.
Quinoa –
Though not an exact cereal, but famous as pseudocereal because of its nutrient profile.
What gives them a place on the list is the good amount of 2.8 mg of iron per bowl.
Since they don't carry any gluten, it could be a good option for people suffering from chronic illness.
Apart from the breakfast rituals, let's switch back to some other greens that carry good iron stuff.
#11. Legumes
Legumes are nutrient-packed foods that can give you many types of nutrients, like vitamins, minerals, and even proteins.
But vegetarians, also stand as one of the great options for iron, as one cup of cooked lentils can offer as much as 6.6 mg of iron.
For maximum iron-containing lentils you can go for:
Black beans
Lentils
Chickpeas
Soybeans
#12. Broccoli – Iron Rich Foods
Though not as rich in iron as other foods on the list one cup of broccoli can give you a decent amount of 1 mg of iron.
Since they also carry a good amount of Vitamin C, the type of iron found in broccoli can absorb readily in your body, making it better than some other iron sources.
#13. Dark Chocolate – Iron Rich Foods
With so many boring (yet nutritious) foods on the list, it's time to gear up for some mouth-pleasing iron-rich foods.
One ounce of dark chocolate which could be two squares of a regular chocolate bar can carry 3.37 milligrams of iron.
But this nutrient profile only sticks to dark chocolate and not milk chocolate!
Moving ahead, tofu, yet another vegan food can be a great option for an iron-rich diet too.
#14. Tofu – Iron Rich Foods
Tofu, derived from soybeans is a hit among vegetarians for the different dishes you can cook from it.
Rich in various nutrients like thiamine, and minerals like calcium, magnesium, and selenium, it also has got a good iron content.
Every half cup of tofu you add to your diet can give you as much as 3.4 mg of iron.
But since that's non-heme iron, you might need to add more cups of it for matching your daily requirement.
The last food on the list is again soybeans, but this time, it's raw and better.
#15. Edamame – Iron Rich Foods
Have you ever tried sushi?
If yes, have you focused on the sides?
Edamame is a popular side for sushi with each cup of raw edamame carrying 9 mg of iron which is a great deal for your daily requirement.
Since they also carry many other nutrients like copper, manganese, and fiber, they are a good source of nutrients for your body.
Conclusion – Iron Rich Foods
Iron is an essential mineral that cannot be synthesized in your body, but does have a great role to play.
While taking iron for avoiding iron deficiency is a strong reason to add the above iron-rich foods to your diet.
There are also other benefits of taking an iron-rich diet. For example, taking iron-rich foods can improve your energy levels, support strong cognitive abilities and growth, and create a healthy pregnancy.
However, for the benefits, one should always stick to the daily requirement levels and not exceed them.
As too much iron consumption can have serious side effects like upset stomach, nausea, diarrhea, and toxicity on severe excess dosage.
You can also try out iron supplements for well-defined dosages.
FAQs – Iron Rich Foods
What food is highest in iron?
The best form of iron is the heme iron which is found in animal-based foods. The best sources of heme iron are meat, fish, and poultry.
What foods to avoid if you are anemic?
Anemia is caused because of iron deficiency and hence you should avoid:
Tea and coffee
Milk products
Foods rich in phytates like brown rice
Grapes, corn, and sorghum
Foods rich in oxalic acid
What are the main causes of iron deficiency?
The main cause of iron deficiency is less intake of iron, a decrease in absorption of iron, and excess blood loss during menstruation.
Although the deficiency because of less intake can be revered with an iron-rich diet, if it occurs because of the other two causes, we recommend consulting a doctor.
How long does it take to get iron levels up?
It could take around 6 months to 1 year to restock your iron levels if you don't take iron-rich diets.
If there is an underlying chronic disease responsible for iron deficiency, the duration of treatment decides the time required to raise the iron levels.
Why is my body not absorbing iron?
There can be many underlying problems that cause ineffective absorption of iron.
Some of these diseases are ulcerative colitis, Crohn's disease, and celiac disease.
For such conditions, you must consult a doctor as even iron-rich foods cannot help in restoring the lost iron levels.