Male Menopause: Overview, Symptoms, Causes And Treatments
Jake Felix
Male menopause, a debatable topic with half of the community confusing it with hypogonadism finally gets debunked here!
Male Menopause Is Called andropause famously as it causes a reduction in the secretion of androgenic hormones like testosterone.
Hypogonadism is a clinical disorder that too causes less secretion of testosterone but has an entirely different range of causes.
While we clear out a thin line of difference between the natural decline of testosterone or male menopause and hypogonadism, we also have a very important discussion.
Why does male menopause not resemble women's menopause in severity and complexity?
Let us dig out these two important concepts as we take on the Male Menopause Myths and Facts.
Male Menopause Myths vs Facts
Menopause is often defined as loss of fertility and the inability to reproduce, which is apt for the end of the menstrual cycle among women.
But in the case of men, it has a different meaning which is in no way similar to what women go through.
Understanding the Men Menopause
Women's menopause is a dramatic reduction in the secretion of estrogen which causes cessation of formation of the ovum.
This results in the inability of women to reproduce.
But in the case of men, experts suggest that menopause is not a full stop to fertility, rather it's a decline in the secretion of male hormones.
Unlike women's menopause, it's not an abrupt decline but a gradual decrease in the secretion of the hormone around 1-2% every year.
That is a long time for any man to notice any symptom that can define men's menopause.
Usually, it takes years to show symptoms but never ends your reproductive phase.
Even at Male Menopause Age which is roughly 40 to 50, a man can still reproduce.
Another important difference that ends the myth regarding male menopause, is the fact, that menopause unlike women can be treated with many options.
But sometimes it could indicate serious problems and hence being aware of the signs and symptoms of the testosterone decline is important.
What Are Signs Of Male Menopause?
Male menopause resembles a condition called hypogonadism!
While in the former, there is a natural decline of testosterone because of several psychological and lifestyle causes, the latter is a more serve version.
Hypogonadism is a condition that causes an abnormal dip in your testosterone levels and causes severe male reproductive functions.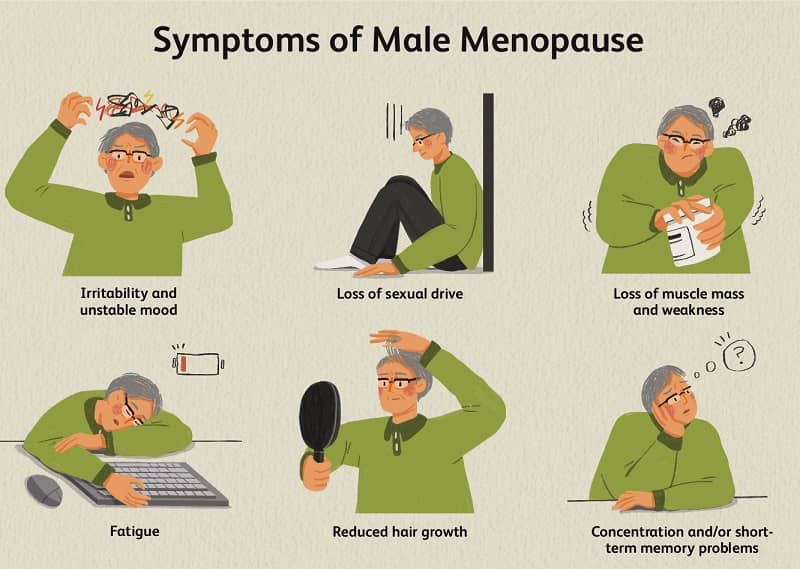 To differentiate between whether your testosterone is naturally going down, or is a sign of hypogonadism, make sure you are aware of the following effects of declining testosterone:
Changes in the sleep pattern:
Low testosterone can impact your sleep quality leading to either lack of sleep or excess sleeping. Sometimes it can even cause insomnia.
Physical Changes:
Testosterone is also called the male hormone as it regulates several body functions in men and affects their physical appearance too.
A decline in your testosterone can gradually cause
Excess weight gain
Slow results from workouts
Poor performance at the gym
fewer muscle gains and muscle loss increases
Fatigue
Weakness and low energy levels
Less stamina than before
Psychological changes:
Testosterone also has a major role in keeping you uplifted with high confidence, but declining testosterone also brings a downslope by:
Mood swings
Reduced concentration and focus
Irritability
Less activeness
While these changes usually don't affect all men, declining testosterone causes changes in your sexual activity.
Sexual changes:
Can cause erectile dysfunction
Decreases libido
Less sex desire
Poor performance on the bed
Less satisfaction and poor orgasms
Can affect the semen volume too
These changes are mostly associated with natural declining testosterone levels that kick in as you age.
But sometimes, your testes might stop producing the hormone because of a condition called hypogonadism.
Differentiating Hypogonadism and Male menopause
The causes:
Male menopause is often caused by psychological changes and lifestyle habits like:
Relationship issues
Stress
Anxiety
Work pressure
Chronic alcoholism
Poor diet
Smoking
But hypogonadism is caused by the dysfunctioning of the gonads causing less secretion of testosterone than the body needs.
Common causes of Hypogonadism are:
High cholesterol
Diabetes
Cardiovascular diseases
The signs:
Comparing the signs of male menopause and hypogonadism, the latter has more severe signs and can result in severe health complications too.
Signs of hypogonadism:
Less bone density
Irregular heart rate
Anemia
Infertility
Health complications like hypertension and osteoporosis
Though they can even show symptoms of male menopause at a higher intensity, naming this disorder as male menopause is inaccurate.
They have different diagnoses and different treatment plans.
Hypogonadism has a complete treatment plan designed by your health care provider comprising of medications and strategical methods.
But Male menopause can easily be reversed with some natural remedies that we are gonna list down.
Male Menopause Treatment
#1. Good sleep schedule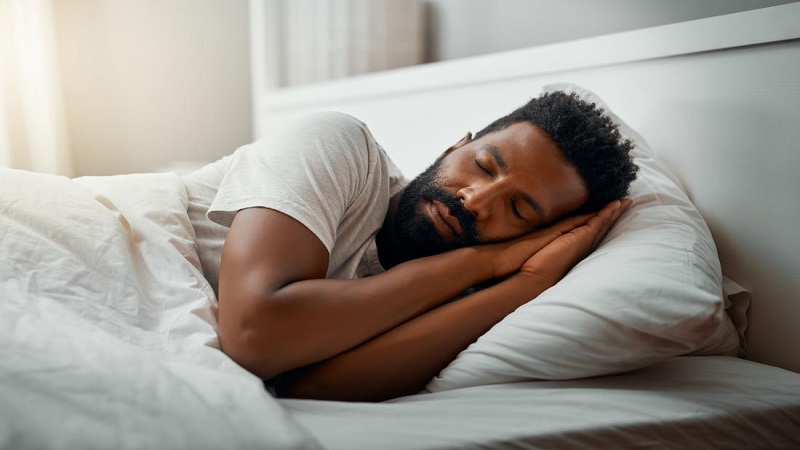 According to studies, men who don't get enough sleep usually show a decline in testosterone faster than men with a good sleep schedule.
Experts also suggest that following a sleep pattern of 7-8 hours a day can naturally boost testosterone because testosterone is highly released when you are asleep.
#2. Diet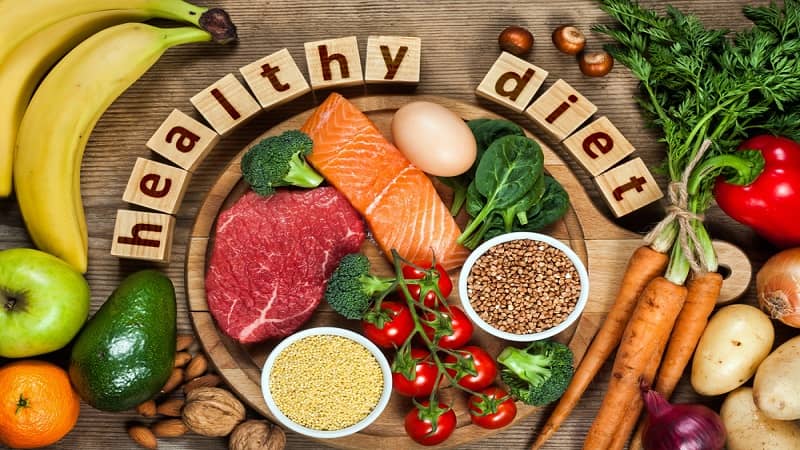 Your diet has a good impact on your hormonal balance including your testosterone levels.
While a balanced diet is important, adding certain testosterone boosting superfoods can amplify the amount of testosterone your body releases:
Fatty fish – they contain Vitamin D, omega 3 fatty acids, and zinc that can boost your testosterone levels.
Leafy greens – they contain magnesium which has been linked with testosterone as being an important mineral for maintaining good levels. They work by fighting oxidative stress that damages testosterone.
Cocoa products – they have magnesium, flavonoids, and anti-inflammatory properties too. Flavonoids especially can boost your testosterone when consumed in the right amounts.
Avocados – contain magnesium and boron that naturally boost your testosterone and even metabolism for more benefits.
Eggs – contain selenium that has antioxidant properties for fighting the damage-causing agents of testosterone.
#3. Exercises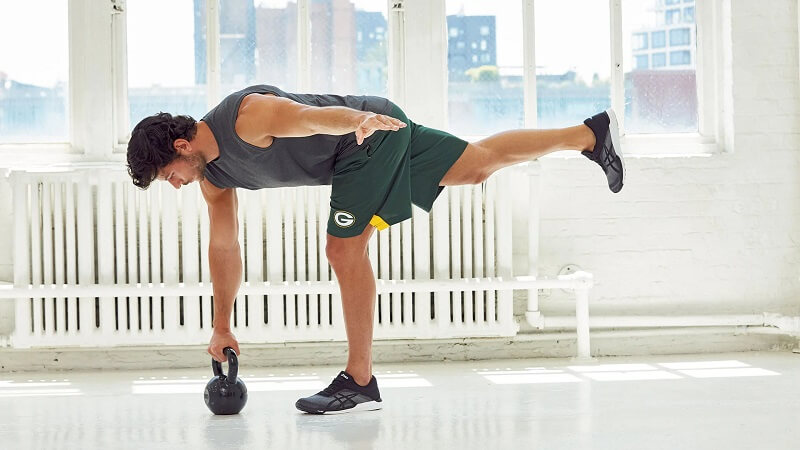 According to research, people who exercised daily had higher levels of testosterone as compared to those who had shorter physical activity investments.
Since this study was conducted on middle-aged men we can say that exercises can be a beneficial way of reversing male menopause.
Though all exercises have amazing effects on your testosterone, specific exercises yield better results:
Resistance training like weight lifting can boost testosterone for the short term as well as long term
HIIT is also a good option for lifting testosterone naturally
#4. Less stress for more testosterone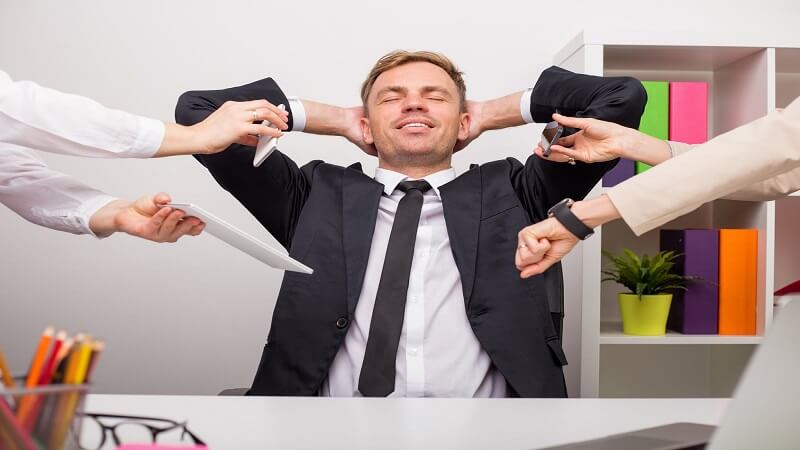 There are two types of stress, chronic and acute.
While acute stress doesn't hamper your hormonal balance but chronic stress can affect your testosterone levels.
Chronic stress elevates cortisol levels in your body that can cause a reduction in both free testosterone and total testosterone levels.
Also, stress-induced cortisol can cause excess weight gain as it makes you crave more food. Obesity is already linked with faster testosterone decline.
For reducing stress you can try:
Meditation
Yoga
Therapies
Music
#5. Increase your outdoor exposure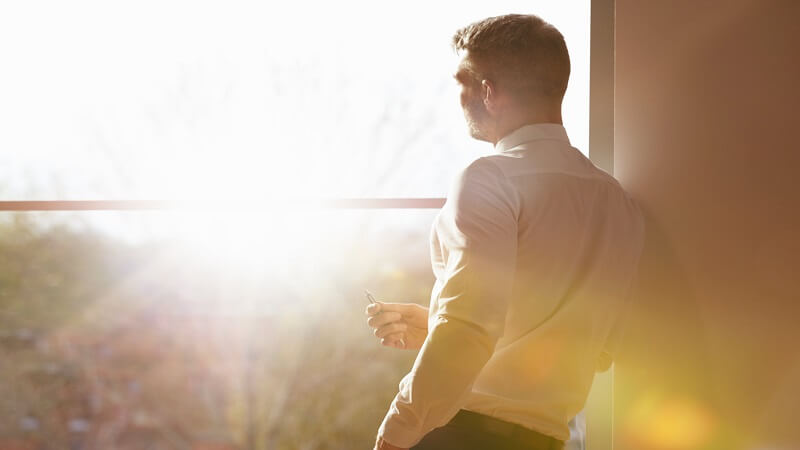 According to studies, deficiency in vitamin D was linked with less testosterone secretion among middle-aged men.
The best way to give your body a healthy dosage of Vitamin D is a good exposure to the sun.
Exposure to the rays of the sun helps your body synthesize its vitamin D.
Though not all people can get good sun exposure, Vitamin D supplements can also be sued as an alternative.
#6. Natural testosterone boosters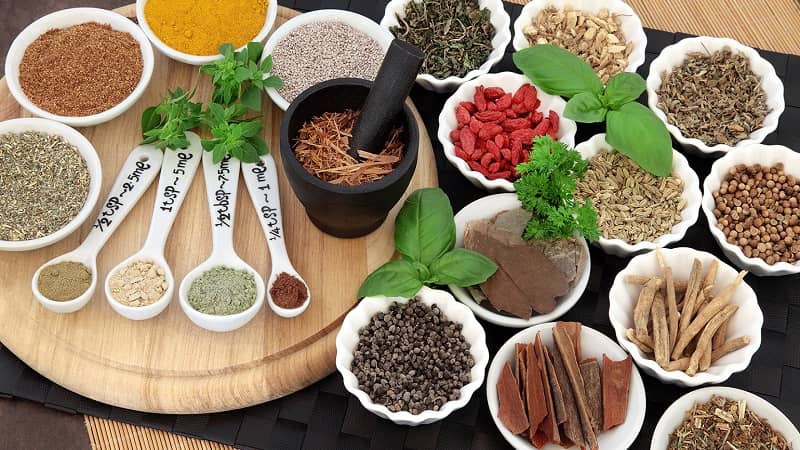 There are many testosterone boosting supplements in the market comprising of natural ingredients backed with science for uplifting declining testosterone levels.
We suggest you go for natural supplements, as there are fewer chances of any health risks with the natural formulation.
Some of the effective ingredients that you can look for in your supplements are:
Ashwagandha – an aphrodisiac that also works as antioxidants and reduces oxidative stress that can damage testosterone.
Horny goat weed – along with boosting testosterone it can also uplift your sexual functions like better libido.
Mucuna purines – has antioxidant properties and also make muscle gain easier.
There are also popular minerals and vitamins used in these supplements like:
Zinc
Vitamin K1
Vitamin D3
Magnesium
When picking up a supplement, always go through the ingredients list carefully and check out any allergies, or side effects of the product.
#7. Other ways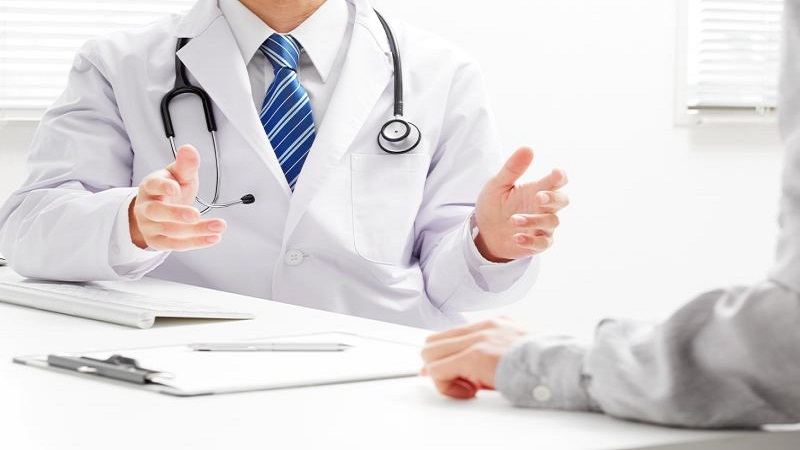 There are also chemical treatments available for boosting testosterone.
For example, hormone replacement therapy has been gaining popularity these days.
But this type of treatment should be the last option, as they have several cons like:
High expenses
Multiple doctor visits
High risks of side effects
There are also pills, topical creams, and other products available for boosting testosterone, but when going for such options always consult a doctor first.
Conclusion
Male menopause is often misunderstood as hypogonadism among men.
A common reason for this is the similar effect of hypogonadism on men as menopause has on women i.e infertility.
But as we closely analyze the concept of male menopause, the term often becomes misleading with a lack of knowledge.
Male menopause is a natural and gradual decline in testosterone levels which could be reversed with natural as well as chemical treatments.
On the other hand, hypogonadism might not be reversed and can even cause infertility which is not the case with andropause.
Hence, male menopause is not what you generally see among women, and is not considered a threat to men unless they ignore the symptoms and don't seek remedies.
FAQs
How Long Does Male Menopause Last?
Menopause is a gradual process among men where there is a gradual and slow decrease in testosterone secretion.
Initially, it does cause any discomfort, but later on, it can show symptoms that can last for 15 to 20 years if not treated with remedies or other options.
Can male menopause be treated?
Yes, it can be reversed in many ways, like making small changes in your lifestyle or taking testosterone-boosting supplements.
On the off chance is that menopause is severe it might require medical treatments like injections, patches, or even hormone replacement therapy.
When do men start losing testosterone?
The decline in testosterone levels usually starts at the age of 30 but it can also be around 40 to 50 among other men.
It depends on your lifestyle and diet as reports say that men who aren't much into physical activities start showing declining testosterone at an early age.
Does masturbating reduce testosterone among men?
Many people believe that a regular habit of masturbation can cause a decline in testosterone levels.
Though masturbating does reduce testosterone that's for a short period and has no role to play in male menopause.
What happens to a man's body at 50?
50-year-old men experience many physical and emotional changes because of declining testosterone.
Usually, they ignore the signs not considering that it could be due to falling testosterone.
Some prominent changes that the male body goes through at 50 are:
Dip in hormone levels like HGH and testosterone
Changes in physical activity
Poor energy levels and weakness
Fatigue
Less sexual desire and poor performance both on and off the bed
What is the average testosterone level by age?
By 15 and 16 years of age, men should have 100-1200 ng/dL of testosterone.
This goes higher as you hit your teens with the range being 300 – 1200 ng/dL. An adult who is above 19 years of age must have 240-950 ng/dL of testosterone level.
What is considered low testosterone in men?
Low testosterone is when the levels dip below 300 ng/dL.
The first signs are always on your energy and stamina.
Later signs like poor sex desire, low libido, and weak erections can develop.